Yoga For Weight Loss
Are you considering yoga for weight loss but not sure about how to proceed? Yoga practice can help you to attain perfect health and optimum/ ideal body weight. To achieve this aim, a disciplined and regular yoga practice is required with proper diet control as per yoga philosophy.
Yoga is the only exercise which can help you to reduce weight without considering amount of sweating as a benchmark. Yoga does not tire you, instead it energises your body. Let us start with yoga, enjoy it and we may lose some pounds.
Identify the possible causes of your obesity Yoga for weight loss requires that you do a self analysis. Identify the main causes for your obesity and gradually change your habits and lifestyle to get rid of them.
Lack of exercise or sedentary life style.
Overeating (eating in excess quantity or eating junk food low in nutrition).
Improper functioning of digestive system (improper digestion, improper assimilation of food and elimination of waste from the body).
Busy lifestyle and stress indirectly effecting your emotions and likely to effect your eating patterns.
For ladies post pregnancy period is the critical period to gain weight.
Recovering from a surgery or prolonged immobility.
Improper functioning of thyroid glands or any other medical condition may also result in weight gain. In this case, seek medical advice.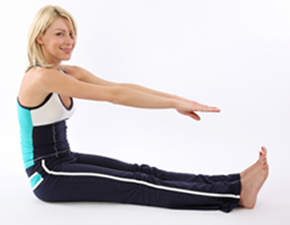 Why Yoga For Weight Loss?
Yoga compares much better than conventional exercises for weight loss as it removes the underlying reasons for obesity in the following manner:
Starting Yoga For Weight Loss
Ideal exercise for everybody to obtain a well proportioned body.
Regular yoga practice helps to discipline life.
Helps you to control your mind and strengthen your will power for weight loss.
Helps to focus on fitness of mind and body, weight loss will be a beneficial side effect!
Helps to practice restraint in eating/ drinking/ sleeping.
Proper functioning of endocrine glands fine tunes your metabolism.
Tones and strengthens the muscles.
Improves blood circulation.
How To Start Yoga For Weight Loss?
Make Up Your Own Plan. Your body needs a customised weight loss plan depending on your health, age, eating habits and lifestyle. I have my own simple but effective weight plan and loosing weight has never been a problem as long as I do yoga daily for one hour. I have compiled a simple plan 'how to lose weight'.
Regular Exercise
There is a need to adopt a lifestyle which includes natural, healthy food and regular yoga exercises. If you are new to yoga, start with a few simple asanas and pranayama for one month, get your body in shape and then concentrate on asanas for weight loss and pranayama for weight loss. In case you are not active physically, do not go over board, start with simple yoga asanas and pranayama. Gradually increase duration and complexity of your yoga practice.
You can start with simple Yoga asanas and Pranayama for weight loss.
For physically active people, during your yoga practice concentrate more on these effective yoga asanas for weight loss from abdomen and thighs. Gradually you can practice these asanas twice in a day, early morning and in the evening.
Obese people will need lot of patience and hard work to loose weight. Yoga for fat people needs special attention. Yoga can reduce weight as well as improve the physical and mental health.
If you are a newbie in yoga, you can sign up for a free yoga course to get an overview of yoga.
However, any other exercise like swimming, cycling and brisk walking can also be supplemented along with yoga for weight loss.
Diet For Weight Loss
Principles of yoga diet build up a solid foundation for effective weight loss. Follow a simplified weight loss diet plan based on your age, eating habits, available fruits and vegetables. Try to practice moderation in eating and drinking. However, one odd binge should not distract you from path of getting fit.
For more comprehensive information about diet planning for weight loss, click here to see www.easy-weightloss-tips.com
Relaxation
Yoga practice provides emotional strength required for weight loss. Do shava asana 10 minutes before sleeping if possible. Also try yoga nidra for complete relaxation twice or thrice a week. Pranayama like rhythmic deep breathing and alom vilom also help for relaxation of mind and body.
Affirmations For Weight Loss
Yoga for weight loss affirmations can help you to maintain the motivation and mental make up for weight loss. Self control, strong will power and determination are the most important ingredients for permanent weight loss.
Yoga For Weight Loss: Common Obstacles
For effective weight loss yoga, be careful of following obstacles:
Low self esteem. Worrying too much about your weight or appearance may lead to low self esteem. Focus on your yoga practice to lose weight.
Ultra slim looks. Some ladies pursue weight loss for ultra slim looks propagated by weight loss industry. Do not spoil your health by resorting to crash diets or weight loss gadgets. Regular yoga practice will help you to get your ideal body weight and a well proportioned body.
Quick Weightloss Yoga. Setting very high weight loss targets is counter productive. Yoga practice cannot promise to make you slim overnight. Remember all the weight was not gained in a day, it will take time to go off. Slow and steady progress is the mantra for permanent weight loss.
Permanent Weight Loss cannot be achieved by quick fix methods marketed by multi million dollar weight loss industry. You may not lose weight, but you are sure to loose couple of dollars! Be careful in selecting your weight loss plan. Do you want free weight loss tips which are simple yet effective?
What is my ideal body weight? Your ideal weight depends on your genes, height, age, dietary habits, sex and basal metabolic rate. Therefore it is not mandatory to follow classical height weight charts. Yoga increases your body awareness and your body will give you indications if you are overweight. If you exercise regularly, a few pounds of extra weight is not a issue unless it effects your appearance and personality.
For permanent loss of extra weight, yoga for  obesity  can be considered. Weight loss is not a one time affair, it is a continuous process.
Have A Great Story/ Tips About This Topic?
Do you have a great story about your success with weight loss, any lessons learnt which can inspire others?
What Other Visitors Have Said
Click below to see contributions from other visitors to this page...