About The Author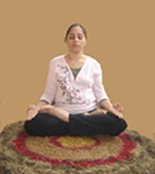 My name is Daljit Kaur and I belong to Panjab, a northern state of India.
Given a choice I would have preferred to be a doctor but I was destined to do post graduation in Chemistry. Thereafter, I studied to become a qualified teacher. My teaching career was subsequently cut short due to family commitments and my various health problems.
I have faced multiple health problems and I made up my mind to came out as a winner. My struggle to fight my health problems has given new direction to my life. I was able to channelise  my health problems into opportunities for learning more about my health, and chart my own road to good health. This in turn has given me the opportunity, knowledge and compassion an opportunity to help others.

My passion with yoga and my resolve to share my experiences about my yoga practice has evolved over a period of time into this website.
The purpose of sharing my story with you is to motivate you to adopt yoga for better health.  If you have any health issues, first step is acceptance of the present situation, then find coping strategies and come out as a winner.  You can read more about my story here.
My Health Problems
My first health problem started in April 1996 when I had to get operated for gall bladder stones.  After that period there were multiple health problems; frequent joint pains, headaches, irritability, anxiety, low energy levels and tendency to get kidney stones.
Thereafter, in Nov 03, my health deteriorated rapidly and I was bed ridden due to severe osteoporosis, ankylosing spondylitis and cervical spondylitis. Thanks to doctors at PGI Chandigarh (India), I was correctly diagnosed with Parathyroid Tumour  and underwent surgery successfully. The meticulous and hard working doctors of PGI who take pride in professional excellence motivate me to this day.
My Yoga Journey
I was advised to do regular exercise and keep my weight in check so as to avoid further health problems. Regular yoga practice has helped me to achieve good health and take care of my family.
I love doing yoga and prefer eating healthy and nutritious vegetarian diet. Yoga practice requires simple sattvik diet consisting mostly of seasonal fruits and vegetables. Yoga asanas and pranayama provides us with free and most effective method of staying fit physically and mentally.
Due to health reasons I had to say good bye to my teaching profession. But there are no regrets as I enjoy my daily yoga practice?
In year 2008, I gained weight quickly and discovered that I was suffering from hypertension and hypothyroidism. Initially, I had to seek medical advice and take medicine to cope with these diseases. I was prescribed hormone therapy to lose weight.

I resolved to reduce weight with exercise and diet control. With long walks and strict diet control I was able to shake off excess weight.  By reducing weight and practicing yoga, now I have my blood pressure under control without any medicines.
With regular yoga, diet control and medicine, my thyroid is under control.  My efforts to get rid of Eltroxin are taking some time but hopefully I will be successful with grace of God. Update: With grace of God, my thyroid got cured in year 2014 and I am able to maintain my thyroid levels without any medicine.

 My Passion For Yoga
I  did my Teacher Training Course (TTC) at Yoga Vidya Gurukul to become a qualified yoga teacher. It was a wonderful experience to learn yoga at the ashram along with other keen learners like me.
I  completed Yoga Therapy Course at Yoga Vidya Gurukul in Nov 2014 to  further enhance my yoga practice and practice various healing therapies and thereafter completed my Advanced Yoga Course. I also learned Reiki and became a qualified Reiki Level III practitioner.

My yoga practice keeps me fit. I love to do yoga and to teach yoga. I guide people to manange various health problems successfully by adopting yoga practice as lifestyle and aid to good health.
On my healing journey, I did Acupressure and  Emotional Freedom Technique (EFT) Course Level I & II in 2016  and Craniosacral Balancing Course in year 2018. In Feb 2020 did NLP and Life Coaching Course including Timeline Technology and Hypnosis. It gives me immense pleasure to help people and enable them to get over their health issues with yoga practice and complemented with other therapies as per requirement.

Sharing My Passion For Yoga

Yoga became my passion and now I wanted to spread the knowledge of yoga so that more people can adopt yoga for improving their health. The idea of making website to spread my message appealed to me.
It gives me immense satisfaction that my site is viewed all over the world and most of the site visitors are satisfied with the quality of content they get here. My free online yoga course for beginners is well appreciated by beginners. I feel blessed to get positive feedback from my online and offline yoga students.
I am presently teaching yoga classes in Dwarka, New Delhi and also offer yoga therapy consultation online and offline. 

 Mission Statement
My mission with this site is to spread yoga awareness and provide to site visitors:
tools/ resources to start a simple yoga practice.
free and high quality information on yoga and holistic health.
practical hints and do-it-yourself yoga exercises to start yoga practice.
motivation to start yoga.
free consultation

My dream is that this website will become your most valuable resource for information on yoga for beginners, and I'll be working hard to make it happen!
Freedom : Working From Home
This site provides me the freedom to be a stay at home mom. Now if you are curious to know you can make your own website, you can watch this short video.