Bhramri Pranayama For Melodious Voice And Concentration
During Bhramri Pranayama a sound resembling the hum of a bee is made while exhaling. In Sanskrit Bhramri means humming of a bee.
Preparation
Read general guidelines for pranayama before starting this pranayama.
Sit on your favourite Asana (Padma asana, Vajra asana or Sukh asana) in a well ventilated room free from any distractions. Keep the waist, back, neck and spine erect. For the beginners, you can sit on a chair or sit cross legged on the yoga mat/ carpet keeping your back, neck and spine erect.
Cover both ears with your thumb so that you don't hear anything. Place two fingers on your eyes and two fingers on your face.
Steps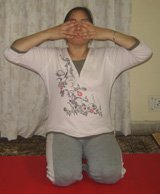 Inhale and fill up your lungs.
Now exhale slowly by making a sweet melodious sound like the sound like buzzing of a bee. Go on doing so till you are out of breath. Lengthen the exhalation as long as possible.
This humming sound should be at a continuous pitch, not to vary the tone or level.
Rest for 3 to 4 seconds and then repeat 5 times.
Benefits
Makes voice pleasant and melodious.
Increases power of concentration.
Cures diseases of throat, and the vocal organs become strong.